Reading Time:
7
minutes
Renting a 4×4 vehicle and embarking on a self drive African Safari is becoming increasingly popular for American and European visitors.
In today's world of financial uncertainty and looming recession, an African Self drive Safari is a budget friendly, independent way of having that dream getaway.
Every wildlife photographer knows that a stable platform for your camera and lens to sit on is critical when photographing wildlife from a vehicle.
Using a bean bag for wildlife photography is a cheap yet effective alternative to expensive rigs that attach to the car window. It is not always practical to accommodate a tripod and so the keen photographer needs to choose an alternative.
A photography bean bag is heavy and you will be facing baggage restrictions when you fly so – read on for my camera bean bag hack!
The trick is to buy a refillable bean bag, empty it of plastic beads and replace the contents with rice once you arrive at your Safari destination.
You'll need:
A medium sized canvas bean bag which has a zip opening
2kg bag of long grain rice (x2)
Please read on should you wish to learn more about bean bags and wildlife photography.
WHAT ARE CAMERA BEAN BAGS AND WHY DO I NEED ONE?
What is a camera bean bag?
A cost effective alternative to gimbal heads, special door rigs and monopods, bean bags are designed to be used inside your own vehicle or on a game viewing vehicle when on a game drive.
Beanbags used for camera and lens support are usually simple canvas or cotton bags filled with polystyrene balls or plastic pellet. The cheaper ones are filled with styrofoam.
When photographing a bird or animals from either your own or a rented vehicle you are limited for space to maneuver your camera and you are shooting from the ledge of your vehicle door with the window fully open.
Bean bags are soft, pliable yet stable camera and lens supports that can either draped over your door or window.
On a game viewing vehicle they can easily be placed over the roll bars of the vehicle adjacent to, or in front of, your seat as you need to try and get a low perspective.
When photographing wildlife on Safari you will be encountering many different lighting conditions, some of which will not be optimal for photography. 
There is a commonly held belief that the days of your African self drive safari will be sun drenched and ideal for wildlife photography.
The truth is that Africa is a place of unpredictable weather, violent storms, torrential rain and even hail storms.
When you are photographing subjects in low light conditions your shutter speed usually has to drop in order to obtain the correct exposure.
The lower the shutter speed the harder it becomes to keep your camera and lens steady. An unsteady camera leads to camera shake and, inevitably, a blurry photo.
Camera beanbags provide good support in these situations and are a lot easier to manage in your vehicle or on a game viewing vehicle than a monopod – and definitely more practical than a tripod.
What lenses require the use of camera support and beanbags?
Many lenses today have digital image stabilization (IS) or vibration reduction (VR) built in to them.
Modern cameras, particularly mirrorless ones have in- body image stabilization technology (IBIS) and the combination of the two will allow you to successfully capture good quality images at lower shutter speeds than was possible 10 years ago.
On self drive safaris you are limited to traversing the public roads of whatever park or reserve you are in and this usually means that you are a fair distance away from the wildlife you wish to photograph.
In wildlife photography distance means two things if you only have a short focal length lens on your camera:
the subject is too small in the frame
you need to crop your image significantly to increase the size of your subject in the frame.
The solution is to bring along a longer focal length lens, either with you when you travel, or renting one upon your arrival.
Telephoto lenses are very heavy and travelling with one may not be practical – particularly when you are using regional airlines in Africa to get from A to B.
If you have opted to go for lighter zoom lenses like a 100 – 600mm lens then you may still need support for your kit but if you are using something like a 70-200mm f2.8 lens then you may not need support at all.
It is when you get to the heavier prime lenses that camera support and beanbags become important.
Beanbags come in many sizes and you should be using a heavy beanbag if you are going to be supporting a 850mm, 600mm or a 500mm f4 prime lens.
My go to lens for wildlife currently is the 500mm PF f5.6 lens.
Less than half the weight of its f4 counterpart, I shoot handheld most of the time.
When I am needing support inside my own vehicle or on a game viewing vehicle I use a medium sized bean bag as pictured below.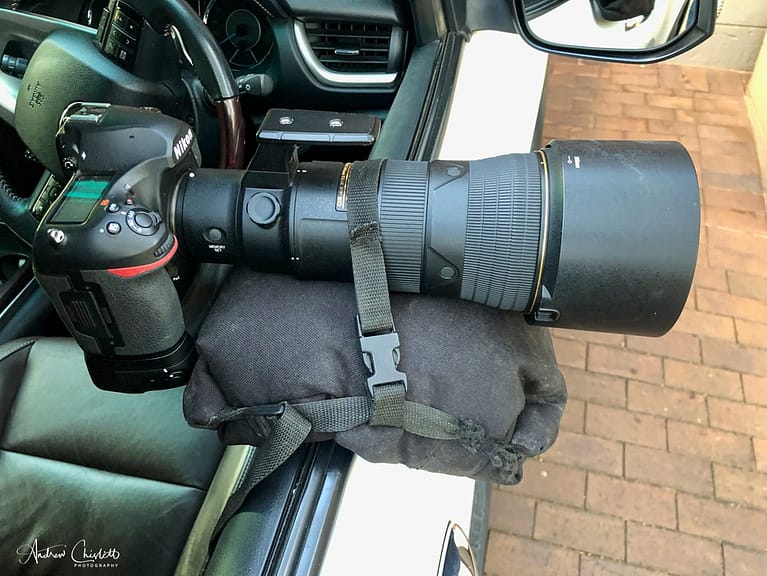 How much do beanbags weigh?
I mention earlier in this article that you will encounter weight restrictions when flying from place to place on your African Safari.
Once you have rented your 4×4 for your self drive Safari the weight is no longer an issue however space might be.
Large beanbags weigh up to 6kg (13 lbs) and are 32 x 26 x 26 cm (12 by 10 by 10 inches) when full of the filling material.
Medium sized beanbags as per the one pictured above weigh about 2.5kg ( 5.5 lbs) and are 32 x 20 x 13 cm (12 x 8 x 5 inches) when filled.
The smallest size beanbags pictured below weigh less than 1 kg (2.2 lbs) and are 25 x 25 x 12.5 cms (10 x 10 x 5 inches) when filled.
This data excludes the weight of any additional extras like a swivel plate on the top. 


The larger beanbags are filled with plastic chips and the smaller ones are filled with polystyrene balls. 
The key to the success of this hack is two fold:
The ability to empty the bean bag
Availability of replacement filling
Travelling with a folded up empty bean bag is the key to travelling light.
Buy a bean bag with a zip up opening
Make sure that bag isn't sewn shut along the seam buy instead one that has a zip opening.
Bean bags that are sewn permanently closed do have one advantage in that the contents will only spill if the bag is ripped. 
Bean bags with zips do have the propensity to leak the contents but this slight disadvantage is massively out weighed by the convenience of being able to empty it and refill it upon arrival at your Safari destination.
An empty medium sized bean bag can be folded up to a size that will easily fit in your jacket pocket or carry on luggage.
Replace the filling with rice
Once you have arrived at your destination with your now empty bean bag you can refill it. My recommendation would be rice.
It is possible to use sand but, as mentioned earlier, bean bags with zips to often leak filling material and the finer the filling material the more likely it is to leak. 
If you have flown in for an African self drive safari you can pick up a bag of rice at any local store or supermarket.
Buy the rice in 2 kgs bags and I would suggest that you buy one for a small bag, two for a medium sized bean bag will work well, and three for a large beanbag.
If you have flown in direct to a lodge where you will not be driving yourself you can buy a bag or two of rice from the lodge where you are staying.
They will probably give it to you for free.
It's easy enough to make your own bag using a rectangle of flexible, waterproof fabric or sack.
I don't recommend using a ziplock bag as they tend to burst open when you drop them.
The bag should be large enough to cradle the lens and you should be able to find the materials you need around the house.
Once you have filled it with rice you should test it on your car door or on the hood of a car.
Rest your camera and long lens on it. Another option is to rest it on top of a fence post if you are testing away from the house.
You could experiment with sunflower seeds or the largest type of lentil you can find as an alternative.
I hope you enjoyed reading more about bean bags and a simple hack to make them portable.
There are several good products available commercially and I will review these in a different article if you are looking to get one. I will also talk about the bean bag I use.
Now all you need to do is book that self drive Safari, pack your cameras, lenses and binoculars and you are all set!