Reading Time:
11
minutes
Your African Safari is likely to be THE holiday experience of your lifetime.
As such you should spend a lot of time planning what you want to spend, where you want to go and (the topic of this article), what additional activities you wish to experience as part and parcel of your Safari.
The activities on offer will be included in your itinerary however, there are always additional options for you to consider and budget for.
Whether you are a keen photographer, a passionate cyclist or a novice horse rider – your African experience can cover a wide range of activities.
Many safari locations provide a raft of things to do so it is important that you enquire about these with your tour operator or travel agent before you finalize your itinerary.
Some activities are extremely popular and advance booking is often essential.
Game drives on a customized 4×4 vehicle with a professional guide or game ranger is what first comes to mind when you think of a Safari.
If you are planning a predominantly wildlife focused Safari experience into Africa, then you will be headed for National Parks or private game reserves where game drives are the primary activity.
Game drives are usually conducted twice a day and last around three hours.
The morning drive departs at dawn and the evening or afternoon drive departs as soon as the heat of the day has subsided.
The daily rate charged at game lodges includes two activities per day so there is no need to budget for additional costs.
The exception to this is if you wish to hire a private safari vehicle for the exclusive use of your family or travelling companions. You can expect to pay around USD 300 per day for the hire of a private vehicle (2022/23). 
This iconic pastime, in an either open or closed vehicle, will get you close to some of Africa's big cats and provide you with eternal memories of your wildlife experience.
This type of Safari is particularly popular with photographers and you can find my recommendations of the top photographic destinations by clicking the link to Best Wildlife Photography Destinations.
Most Safaris include a visit to lodges that offer game viewing drives and these will include an afternoon or 'sunset' drive.
This usually returns to your camp or lodge in time for dinner at around 7 pm.
It is often possible to request a later drive as an additional activity and this drive would depart as the sun sets and return to your lodge or camp around two hours later.
Nocturnal drives afford you the opportunity to see the inhabitants of the African bush that only come out in the hours of darkness.
Many of these will not be out and about by the time your afternoon drive returns to camp so adding on a night drive will enhance your overall experience and possibly even provide you with the sightings of a lifetime.
Lions, leopards and some of the smaller carnivores like honey badgers and genets are very active at night and the chances of witnessing a kill dramatically increase.
Many of Africa's most dangerous animals are nocturnal.
Owls can often be seen hunting at night in areas that have large trees and woodland areas and your guide will brief you on which species you are likely to encounter before you set off.
Night drives do present a challenge if you are a keen photographer so please read my article linked below to learn how to capture great images at night.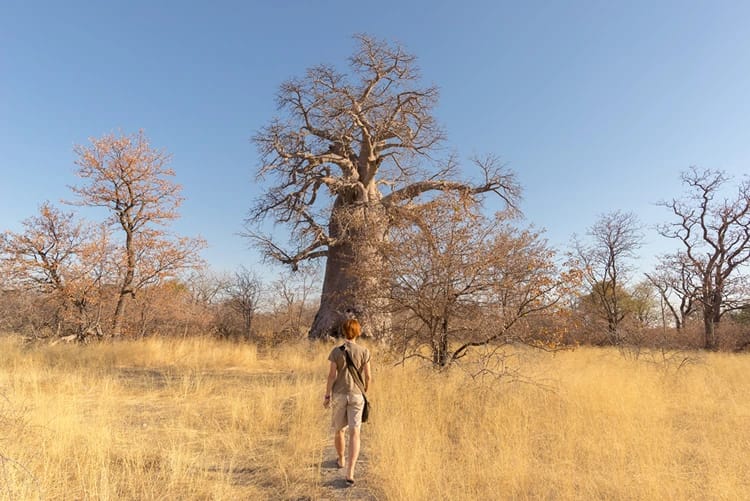 The walking safaris are led by an professional field guide (who will be armed with a rifle in Big 5 game reserves) and they depart after morning game drive – at roughly 10 am.
During this walk you will be introduced to many different types of plants and trees and you will also be looking for animal spoor (tracks).
This activity gets you up close to nature with all the sights, smells and sounds that you can only really appreciate from the ground. 
Bush walks, also called nature walks, are a common African offering that are usually included in the cost of your stay.
In most cases participants must be over the age of 16.
Ensure you are suitably prepared for a walk in the African sun and pack/wear the following:
What to wear/pack on a Bush Walk
Comfortable closed shoes
Loose fitting linen or cotton shirt with long sleeves
Insect repellent
Sun screen lotion
Drinking water 
Binoculars
Camera
Sunglasses
Tissues or toilet roll for emergency pit stops
Some locations offer multi-day walking safaris including overnight camping stops.
Ranging from 4 days to 2 weeks, these are very popular as you are able to get a lot closer to game movement and enable you to see as much as possible.
Check out the Otter Trail, a three day hike along the Garden Route Coast of South Africa.
Always have your camera at the ready!
Boat trips are offered as an alternative to a game drive at reserves that have direct access to rivers and large dams.
In the Chobe, and Okavango Delta regions of Botswana, and the Zambezi area in Namibia, you will have a choice of cruising down the river for a couple of hours or alternatively being paddled along in a mokoro (traditional dugout canoe).
For the environmentally minded visitor there are electric boats being used at some lodges as per the picture above.
You get an incredible perspective from the water and you will be at eye level with hippos and crocodiles and only meters away from elephants drinking from the river.
You are able to get up closer than if you were in a vehicle or on foot.
My recommendation would be that you take a drive on a safari vehicle in the morning and then substitute a drive for a boat trip in the afternoon.
Where the alternative is offered the boat trips would be included in the daily rate.
If you are looking to book a seat on a boat from an independent operator then you should budget to pay around USD 50 per person for a three hour sunset cruise. (2022/23)
Adding a hot air balloon trip to your Safari is HIGHLY recommended.
Particularly if you will be visiting either Namibia, Zambia, Okavango Delta, and in east Africa – Masai Mara in Kenya or the Ngorongoro Crater.
Seeing these regions from the air is an amazing African experience and the trips usually take place in the early morning.
Floating along silently above the grasslands of the Mara or above the incredible scenery of the Okavango swamps is a once in a life time experience.
Operators of these scenic trips publicly share their excellent safety records and you will have nothing to fear.
The duration of these trips, or flights as they are known, vary from place to place but they are seldom longer than an hour.
A champagne breakfast is usually arranged after the trip and is included in the price.
You can expect to pay about USD 450 per person (20022/23) and children over a height of 1.2 m are allowed to come along.
The minimum height requirement is to ensure they can see over the basket and not be tempted to climb up for a better look!
For the adrenaline junkies among us a helicopter flip over the bush is a thrilling experience, albeit an expensive one.
Photography enthusiasts will be able to capture incredible aerial views of mountains, waterfalls, wildlife, rivers and more as these flights offer a wonderful view.
These trips can be tailored to suit your requirements and they fly from dawn until dusk – sunset flight over Victoria Falls anyone?
Helicopters are used to monitor game movement in most safari countries but they are often chartered out for scenic flights, particularly in Botswana and South Africa.
A flip in a helicopter will cost you around USD 650 per person per hour.
If you wish to add a quick landing to drink a bottle of champagne in the bush then you can add an additional USD 50 per person (2022/23)
Equestrian Safaris have become incredibly popular over recent years.
You can choose to dedicate your entire trip to a horseback Safari or look for places that offer horse riding as an optional activity in addition to other, more traditional, safari activities.
This is an opportunity to marvel in Africa's wildlife on horseback and is your best chance to get really close to African animals – perhaps even a rhino.
Specialty equestrian tours normally dedicate around 70% of the Safari to horse riding so if you have booked a 10 day trip with a specialist equestrian tour operator then you can expect to spend 7 days riding on horseback.
Ensure you book with an established horseback safari operator and clarify exactly what the various operators offer before booking.
These tours operate in South Africa, Botswana, Kenya, Tanzania, Namibia and Botswana.
Some of these equestrian tours are a journey from A to B over a period of days and others operate from a single location – usually a lodge – and conduct daily rides from there.
Specialist equestrian Safaris start at USD 2 000 for 10 days (South Africa) and can go up to USD 8 000 for 10 days (Serengeti, Tanzania) 2022/23.
Equus Journeys have many options for you to research.
Safari destinations that offer horse riding as an optional activity rather than a focused activity, will have horses and ride duration options for every level of riding experience including kids.
Horse rides would usually be included in the rate.
Please note that it will be the luxury end of the market that will extend this option and the cost of looking after and protecting the horses will be passed on to you, the guest, in the overall rate per person.
Wherever your chosen African Safari destination, you should look for opportunities to learn more about, or engage with, the local culture.
You can choose to totally immerse yourself with the local population and their culture by going on a trip dedicated to this purpose and this is one of the fastest growing sectors of international tourism.
Cultural immersion can be described as actively integrating into a community, interacting with the local people, and participating in their daily activities.
A culture immersion focused tour to Nothern Kwazulu-Natal in South Africa (Zulu culture experience plus game reserve visits) will cost you about USD 2 800 for 10 days.
Many African destinations offer day trips to 'cultural villages' in their area as part of your stay and these are included in the price.
In most Southern African countries the local communities either own the land the reserves are operating on, or they have a share in the profits.
Visiting these cultural and community centers and buying their wares, contributes greatly to the upliftment of these communities.
Mountain biking is one of the fastest growing sports in the world. International tourism has responded to this and tour operators are increasingly starting to add cycling as an activity.
You can choose to take a cycle tour as a specific Safari objective and these are offered in Namibia, Botswana, South Africa and Kenya.
Aimed at the out doors type, you can expect to be spending up to 7 hours a day in the saddle and to sleep under the stars in tents.
Not for everyone, but certainly attractive to passionate cyclists who have plenty of endurance and stamina. 
A twelve day camping/cycling Safari in Namibia will set you back USD 5 000 per person (2022/23)
For those just looking for a bit of exercise while in the African bush then there are destinations that offer cycling as an alternative to say a game drive or bush walk.
The cost of these short rides are included in your stay and you are accompanied by a field guide who will educate you on the fauna and flora and ensure that you don't get lost.
These rides are usually done in the mornings.
The animals will not often allow you to get up close when you are on a bike, so you are unlikely to see more wildlife than in a vehicle.
Tours to Africa accompanied by a professional photographer are big business. Professional photographers from around the world offer 7 to 10 day workshops to a number of Safari and wildlife photography destinations in Africa.
This is a great opportunity to review and improve your skills and will enhance your whole safari experience.
A hosted 10 day photographic tour to Kenya, Botswana or Tanzania from the US will cost you USD 5 000 right up to USD 50 000 depending on the level of luxury of your accommodation.
Popular destinations for photographic safari operators are, Mana Pools, Lake Kariba, South Luangwa, Zambezi River and most of the east African countries where the great migration is the big attraction.
Photographic tours vary wildly in cost and duration and should be carefully researched before booking.
My advice would be to engage with a professional photographer resident in the Safari destination you are wanting to go to, rather than flying in with a photographer based in the same country as you.
The local photographers have extensive experience and intimate knowledge of animal behavior's.
There is great benefit of getting photographic advice and an opportunity to apply it in the field.
Look for destinations that either have a resident photographer and/or a vehicle modified specifically with the photographer in mind.
All of the private game reserves in southern Africa compete for the wildlife photography market and some will offer personalized tuition for you during your stay.
This will come at an extra cost – usually negotiable – if the photographer is not employed by the game reserve or lodge you are visiting.
Tuition may be offered as an inclusive part of your itinerary and will be built into the price if the photographer works there full time.
There is no set standard for this so inquire with your tour operator before departing on your trip. 
Increasing numbers of species in Africa and elsewhere are in danger of extinction.
Some savvy operators have recognized the benefits of combining international tourism with conservation and offer what are described as Conservation Safaris.
If you choose a wildlife conservation Safari you will be working alongside local communities, biologists and rangers protecting endangered animals and their habitats.
These conservation professionals are expert on game movement and other ecological aspects and operate all across the continent.
Options include a three day lion conservation Safari in Uganda, or a four day mountain gorilla trek in Rwanda. 
A four day conservation Safari in Uganda or Rwanda will cost about USD 1 200 per person (2022/23).
For a more modest contribution to wildlife conservation, make sure that any Safari tour operator you use donates part of its income to conservation.
Most National Parks in southern Africa charge separate fees for conservation upon entry.
These are usually payable in cash so ensure you have some cash handy.
Luxury Safari lodges in Southern Africa usually have a wellness center or beauty spa on the premises.
Adding a touch of glamour and pampering to your safari adventure cannot be a bad thing!
Many lodges do not have a separate spa but have skilled wellness therapists who will provide pampering either in your room or perhaps under the shade of an acacia tree somewhere on the grounds.
Treatment available would include face and body treatments, manicures, pedicures and massages.
At some lodges the wellness experience will be included in the price, at others there will be a menu of treatments and services in the booklet in your room with associated prices.
Safari Activities for Kids
If you are travelling with kids under the age of twelve you may find that a number of destinations either do not allow guests with children under 12 or they do not allow the kids to participate in game drives and bush walks.
This is purely for safety reasons but it can present some challenges when it comes to keeping the children busy and entertained.
If you have younger children and wish them to experience an African Safari with you then look for destinations that provide the following services and activities:
child minder services
a daily 'bumble' on a game vehicle – usually a 30 minute quick drive around the outside of the lodge fence
educational activities in camp including supervised walks inside the perimeter, where they will learn to identify some of the plants, insects and perhaps even animal tracks that may have been left overnight.
Your Africa safari experience can include activities for every age and nearly every budget.
Plan in advance and seek assistance on community forums or from your travel agent before booking.
Finally, try an activity you have never experienced before! You won't regret it. Africa has something for everyone.